QR Code Press » Featured News, QR Codes, Social Media Marketing, United States » QR code integrated into Farmingdale library system
December 28th, 2010 | Add a Comment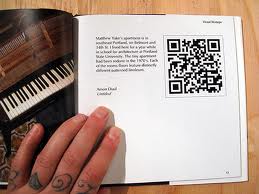 Come January 18, 2011 and visitors and regular patrons of the Farmingdale public library will be able to check a website associated with a book's author or its content through a QR code embedded in it.
The library, which prides itself in keeping at par with technology through Facebook and Twitter presence, is looking up at QR codes as the next innovation to promote books, authors and the competency of the library itself. Debbie Podolski, the library's director, stated that they are utilizing the QR code technology as part of their being information specialists.
The project, as stated by Ms. Podolski, was inspired by magazines such as Time and Library Journal who had employed QR codes as an effective method of providing more information to the reader. The Wifi-enabled library wants to keep at pace with the emerging and fast growing mobile technology to entice readers of all age into their services, the director said.
With smartphones in hand, library reader can scan the 2D code to avail of the additional information, related website and author's profile, among others, as determined by the library staff as relevant to the book and the topics it cover.
QR coding is an effective method because it provides a bridge between the published books and the online world. It is very advantageous as it allows users to quickly access the information needed without the need to go through search results if they are to manually input information on a computer.
It provides avenue for authors and firms for marketing strategy as they can place advertisements and recommendations on the website that the QR code links to. As for the library, it adds appeal to the technology-oriented citizens as the paper-only material is now a gateway into the cyberspace.
The QR coding of books provides great deal of benefits both to the authors and the library service providers. Commenting on the technology, Ms. Podolski said: "The sky's the limit."
Filed under: Featured News, QR Codes, Social Media Marketing, United States · Tags: authors, books, facebook, Farmingdale library, qr codes, smartphones, twitter
About QR Code Press and MCommerce Press
We highlight the latest in the world of Mobile Commerce news so you can keep updated with the coolest technology available! Join us and explore the changes in how the world does business with new technology like Near Field Communications that enable mobile payments, Augmented Reality Apps, QR Code marketing techniques and Social Media marketing tactics. Learn from others how you can take your mobile marketing campaign to the next level by implementing successful mobile strategies. Enjoy and thanks for stopping by!