While many people might guess that the president would be wearing an Apple Watch, that's not the case.
President Barack Obama was the first guest in the latest season of Comedians in Cars Getting Coffee, Jerry Seinfeld's popular online series and near the end of the show, a smartwatch was spotted on his wrist.
Many would have guessed that the president would be wearing an Apple Watch or Tag Heuer, for instance.
At one point in the episode, President Obama was driving a 1963 Corvette Stingray Split Window Coupe, with Jerry Seinfeld in the passenger seat. As he drove, the Fitbit Surge smartwatch could be seen on his left wrist. This is a wearable technology device that retails for $250 and that tracks steps, calories burned and heart rate, among other features, and is GPS-enabled. This device also connects with a smartphone so that music can be controlled from the wrist and notifications can be viewed.
This was the same smartwatch that had been spotted on the President's wrist in March, suggesting it's a regular fixture.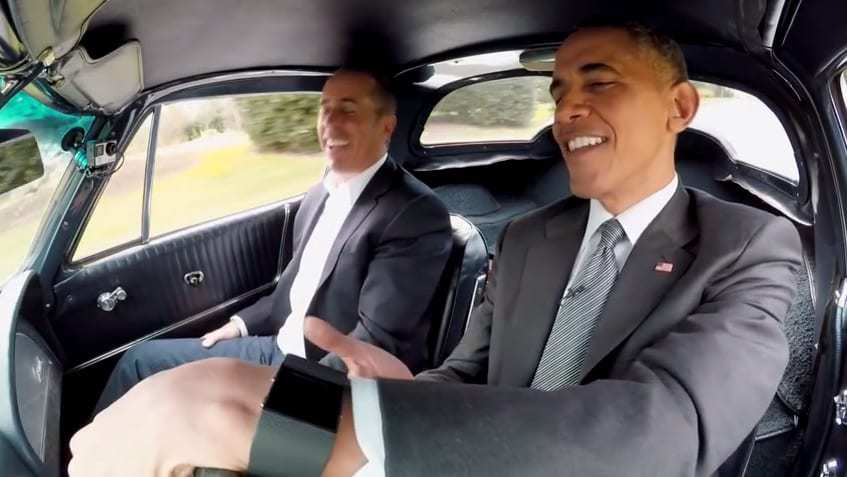 Even before that, in February, Obama had said that he intended to start using wearable technology while he was working out. At that time, he'd said he was interested in what the Apple Watch had to offer. Clearly, though, this was not his choice as it looks as though he wears his Fitbit quite regularly.
It has been suggested that the choice was made by the president because he cannot use a smartphone that has a recording device. That might have automatically ruled out some of the other types of wearables such as those offered by Samsung or Apple. Moreover, it may also be that the GPS functionality within the Fitbit worn by the president has been disabled by the Secret Service team so that the device could not be hacked in order to track the position of the man.
The fact that the president chose the Fitbit smartwatch has had quite the positive impact on the device maker. That said, it has also been doing very well on its own. Its IPO was in June 2015 and within two months, it had increased by 100 percent to reach $51. Of course, it was not able to maintain that very high level from the spike, but it is still trading at around $30 per share, which is higher than its initial offering.