QR Code Press » Commercial, Featured News, Mobile Commerce, Mobile Marketing, Social Media Marketing, United States » Papa Murphy's unveils mobile marketing strategy through Phizzle partnership
September 28th, 2011 | Add a Comment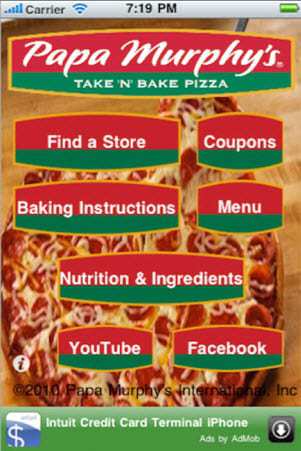 Mobile marketing and advertising provider, Phizzle, Inc., which specializes in the delivery of solutions for audience engagement for building fan loyalty and boosting customer revenues, has revealed that it has partnered with Papa Murphy's in order to develop and run its enhanced mobile marketing campaigns in select American Papa Murphy locations.
Papa Murphy's is the nation's fifth-largest pizza chain, having over 1,250 North American restaurants and was one of the pioneers of the "take n' bake" pizza market.
These two companies are working together to create mobile campaigns and promotions that will provide participants with mobile text alerts so that Papa Murphy's can build its opt-in mobile database.
This campaign's promotions involve customized signage within the restaurants that create a call to action. The signage also includes tent pop-ups as well as coupon mailers. They allow consumers to use a text message to opt-in so that they can receive exclusive offers three or four times on a monthly basis, which can then be redeemed at the customer's favorite locations. These offers include discounts and free pizza, size upgrades, and additional toppings.
By using this marketing technique, the locations of Papa Murphy's in Kansas, Colorado, and Texas have already achieved a customer participation of more than 20,000 consumers who have opted in. The campaign's primary achievement is its generation of consumer buy-ins, since the majority of the customers who come in to a Papa Murphy's location for a discounted or free medium pizza will upgrade the order through the purchase of a larger pizza or additional toppings.
Filed under: Commercial, Featured News, Mobile Commerce, Mobile Marketing, Social Media Marketing, United States · Tags: American Papa Murphy locations, boosting customer loyalty, cell phone coupon, coupon codes, coupons mobile, create a call to action, create mobile campaigns, create mobile promotions, discount coupons, discounts on pizza, exclusive offers with sms marketing, free mobile coupons, free pizza, manufacturer coupons, mobile coupon, mobile coupon apps, mobile coupon companies, mobile coupon redemption, mobile couponing, mobile coupons, mobile coupons statistics, mobile discount, mobile marketing, mobile marketing campaigns, mobile marketing company, mobile phone coupon, mobile phone coupons, mobile promotion, mobile text coupons, opt-in mobile database, papa murphys pizza app, Phizzle, pure mobile coupon, pure mobile coupons, receive exclusive offers, sms mobile marketing, sms opt in campaign, take n bake pizza, text message marketing
About QR Code Press and MCommerce Press
We highlight the latest in the world of Mobile Commerce news so you can keep updated with the coolest technology available! Join us and explore the changes in how the world does business with new technology like Near Field Communications that enable mobile payments, Augmented Reality Apps, QR Code marketing techniques and Social Media marketing tactics. Learn from others how you can take your mobile marketing campaign to the next level by implementing successful mobile strategies. Enjoy and thanks for stopping by!