The Universal Orlando Resort accommodations has used the quick response codes for instant access to historical info.
The Universal Orlando Resort Hard Rock Hotel has now released a whole new music memorabilia collection and, with it, it has posted QR codes so visitors will be able to learn more about where each piece fit into history.
The memorabilia displays include items from everyone ranging from Elvis and The Beatles to Lady Gaga.
Fans of The Rolling Stones, The Beatles, Elvis, Santana, Lady Gaga, Rhianna and more will not want to miss this latest collection to be released at the hotel. This is meant to be the crowning piece on the multi-million dollar reno that has been ongoing at the Hard Rock Hotel. This dramatic collection has also had its release aligned with the hotel's 15th anniversary celebration, this year. In order to make sure that visitors all know the importance of each piece, QR codes have been posted alongside them, for easy scanning and information access.
Scanning the QR codes provides visitors with a direct link to the history of every item on display.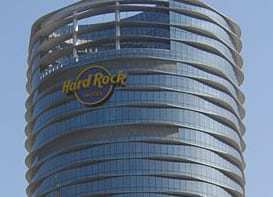 The collection owned by the Hard Rock brand found its beginnings in quite the subtle way, as it all started when a regular customer of the Hard Rock Café in London made a gift of an old, beaten-up Fender Lead II electric guitar to the location, believing it would be an attractive piece to hang on the wall. Not too long afterward, another patron of the London location sent his Gibson Les Paul to the café, along with a note that read "Mine's as good as his any day." As the two patrons in question happened to be Eric Clapton and Pete Townshend, it ended up being quite the story and quite the beginning of a fantastic collection.
The display at the hotel includes everything from John Lennon's suit from the "A Hard Day's Night" film debut of the Beatles in 1964, to one of Lady Gaga's latex gowns. The purpose of the collection is to underscore the massive impact that rock music has had on culture.
Hard Rock International director of memorabilia, Jerry Fraize, explained that "…to enhance the guest experience, we have added QR codes that allow instant access to the history of each piece in this extraordinary collection."