The Apple Watch Series 4 has been granted FDA Clearance for ECG monitoring.
Receiving clearance from the U.S. Food and Drug Administration (FDA), makes the new Apple Watch the first consumer device to receive this clearance from the federal agency to operate as an over-the-counter (OTC) ECG-monitoring device.
The Apple Watch Series 4 is one of the only devices on the market to provide users EKG readings.
Upon the unveiling of its new Apple Watch, at its September event, the tech giant confirmed that the approval its smartwatch received from the FDA for its electrocardiogram functionality, makes it one of the only devices available to consumers that provides this function.
Usually, consumers are not eligible for purchasing ECG devices. The fact that Apple provides this feature to its users makes the smartwatch a very unique device.
The new Apple Watch has FDA clearance to show its first ECG without the user requiring a doctor's review.
The Apple Watch Series 4 is not the first device to offer this ECG technology. In fact, similar tech is already being utilized by AliveCor, which has recently received "Breakthrough Device" status by the FDA for its potassium-screening device, the KardiaK mHealth platform, QR Code Press recently reported.
That being said, the California-based medical device company, which markets the KardiaBand accessory for Apple's smartwatch, told AppleInsider that its KardiaBand was the first to receive OTC FDA clearence in 2014, three years before its wide general release back in November of last year.
That being said, users of the KardiaBand accessory are required to have their first ECG reviewed by a doctor in order to be able to view the reading themselves. According to AliveCor, this is a regulatory necessity, as the FDA requires new US accounts to have their EKG reviewed by a US board-certified cardiologist.
However, this isn't the case for the Apple Watch Series 4. Its FDA clearance allows users to see their first ECG without needing a doctor review.
Users can take an ECG at any time with the new Apple Watch by using the app included in the device. The app, combined with the watch's newly integrated electrodes in its sapphire crystal and digital crown, make it possible for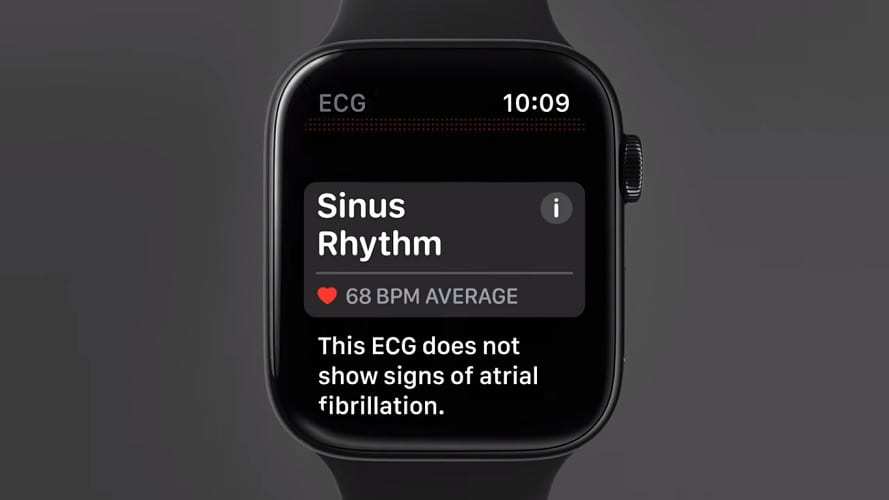 users to take the ECG. All ECG recordings are stored in the device's Health app and can be shared with a healthcare professional when necessary. The ECG functionality will first be available only to US customers, but Apple intends to eventually make the feature available to users in other markets, as well.