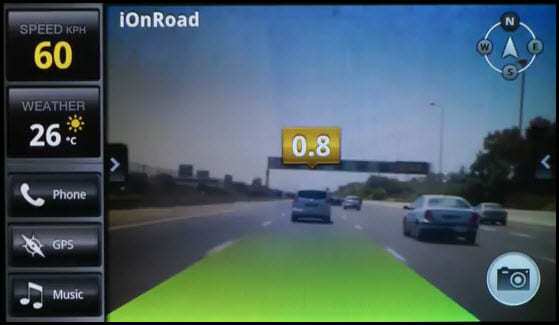 iOnRoad, an award winning developer of mobile applications, has launched a new app that can make driving a little more safe. The app, called iOnRoad Augmented Driving is available for Android smart phones and makes use of augmented reality to help motorists be aware of the various elements in their environment. Similar road safety apps have been released in the past by other companies, but iOnRoad aims to be the first to introduce a versatile tool to drivers that will not get in their way whilst traveling.
The app uses a smart phones camera to turn obtain visual data from the road ahead. Using visual algorithms and location-based technologies, the app then displays a variety of information on the phone's screen using augmented reality. This information can be anything from speed and direction to potential threats in the environment. Furthermore, the app continues to run when other features of the phone are engaged, such as calling. iOnRoad can also integrate with social networks, allowing users to update their profiles whilst driving.
While interesting, the safety of iOnRoad, and similar apps, is still subject to question. While the augmented reality displays give drivers a variety of information to look at, it is difficult to say whether that is any better than the alternative – two eyes and hands on the steering wheel. Given that the app is made for a mobile phone, the field of view is greatly reduced to accommodate the mobile device's size. This can make it more difficult to pick up on subtle changes in traffic. Suffice it to say, the app is not meant to be used as a replacement for the windshield, but it may offer more distraction than is safe for drivers.