The goal is to stop cell phones behind bars from playing a role in organizing drug deals and even murders.
Prisoners in the U.K. will no longer be allowed to use their mobile technology while behind bars, as these devices could be used by criminals to be able to continue to run illegal activities both inside the jail and outside, from within their cells.
Cell phones that belong to criminals in jail across the country will soon have their numbers disconnected.
Prisons will also be utilizing new and inexpensive technology to be able to detect where there is cellular mobile technology present, and what their numbers are. They can then use this information to obtain a court judgment that will require the wireless service provider to disconnect those numbers. In 2013, there were 7,451 cell phones and SIM cards that were seized from criminals. Those are the most recent available figures. However, since that time, it is believed that hundreds, if not thousands of cell phones that have been smuggled in by visitors and/or prison staff that are corrupt.
Mobile technology service companies have previously stated that they would require the law to force them to disconnect prisoners.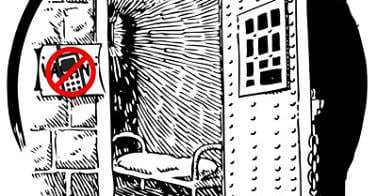 Those wireless service companies have stated that they would not cut off the cell phone numbers of inmates voluntarily and that it would take a change in the law to make them to disconnect the service to those mobile devices.
A memo by Theresa May, a UK Minister of Parliament (MP) and Home Secretary stated that "There are over 7,000 known organized criminals in prison in England and Wales." A report from the Sunday Times added that officials are aware of serious crimes, such as escapes, the import of drugs, and even murders that are being organized behind bars and that are being enabled by mobile phones that are not permitted, but that have remained active.
If an inmate is caught using mobile technology, there is a sentence of up to two additional years in prison, and the fine for the illegal action is unlimited. May pointed out that "The mobile network operators have told us they are unwilling to disconnect these phones unless compelled by law." Until now, the best that the prisons could do was to use expensive scrambling equipment to block cell phone signals from reaching criminals. The new regulations will allow prisons to use a new technology that comes with a notably lower price tag.