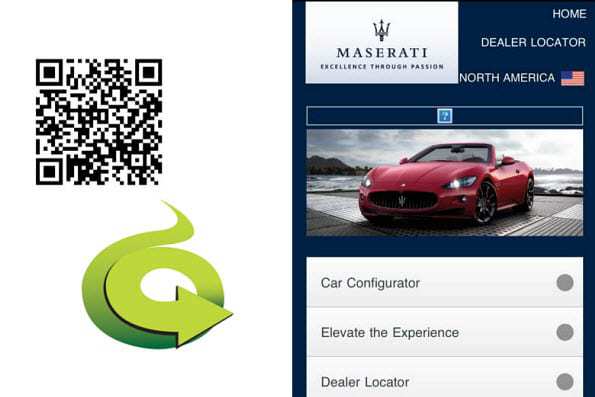 Maserati, the Italian automaker, has released the details of their latest mobile marketing campaign, which includes the use of customized QR codes in a print ad, which redirects mobile device users to an optimized site where they care design the GranTurismo S of their dreams.
The ad, which has been published in several luxury-focused magazines, is a single page placement that includes a QR code that has been designed with the Maserati logo in its center. When scanned using a mobile device, the consumer is redirected to an optimized site where they can have a look at the various models of vehicle, build their own preferred version of the car, find the location of the nearest dealer, and subscribe to the site's email newsletter.
QR Codes in print ads have been growing in popularity and appealing to many different demographics, especially with magazine readers. According to a Nellymoser study, the use of QR codes, such as 2D barcodes and Microsoft Tags, skyrocketed by 617 percent between January and December 2011 within the top 100 American magazines.
Nellymoser is a mobile technology and marketing company based in Massachusetts and its data indicated that most of the growth of the use of QR codes was driven by advertisers.  From the beginning to the end of last year, the number of magazine pages that included these barcodes rose from 3.6 percent to 8.36 percent.
Many business owners from small to large corporations are enjoying the ease and low cost related to QR Code marketing.