QR Code Press » Commercial, Featured News, Mobile Marketing, United States » Lowes new look sporting Microsoft Tags all over the place!
March 31st, 2011 | Add a Comment
Improving home improvement may sound redundant, but to the home improvement retailer Lowes, it was something that needed to be done. In 2010, Lowes started a new business campaign that would help redefine them and reintroduce them to the consumer market.
When the economy took its downturn several retail businesses felt the crunch. Consumers had very little to spend, and when they did spend, they did their homework; looking for goods with the best value for the price. During this time, Lowes decided to reunite with people, on a more personal level.
"Experience. Lowes. Let's build something together." This became their new theme; offering shoppers, service and value they could trust. In 2011 the next phase of their campaign has rolled out; a new design and format for their magazine, "Lowes Creative Ideas."
The magazine has been formatted like something that would be in Country Living, or Better Homes and Gardens. When you start looking through it, you get a warm, inviting feeling that encourages you to read more. Something else you might notice are the square, colored tags that are showing up on several pages throughout the magazine.
These are Microsoft "tags", which are like QR Codes, with a few differences. Unlike QR Codes, "tags" can be in color, and they are designed for you, but still owned by Microsoft.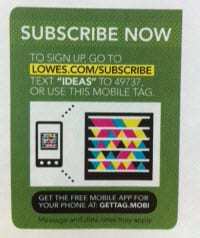 However, by using the tags, Lowes can use the Microsoft analytics tool, to track statistics about each code that they use.
The tags will store information regarding the number of visits, the time of the visits, and other useful data for marketing. The Microsoft tags can be scanned just like QR Codes; with any Smartphone that has downloaded the (free) program that enables the phone to "read" the tag.
Lowes isn't just using the tags for analytic data, but also as a way to entice customers to learn more about specific products; by scanning the tag. The tags will also link to coupons, videos and other helpful information for the consumer.
Filed under: Commercial, Featured News, Mobile Marketing, United States · Tags: 2d barcodes, advertising campaign, cheap marketing ideas, cheap mobile marketing, color qr codes, Lowes, Lowes advertising, Lowes Creative Ideas, Microsoft analytics tool, Microsoft tag, Microsoft tag analytics, microsoft tag barcode, microsoft tag download, Microsoft Tag Reader, microsoft tag technology, microsoft tagging, ms tags, print ad with qr codes, product info on codes, qr code, qr code analytics, qr codes, qr codes with color, scan code, scan color codes, scanning the tag, tag microsoft, What is a microsoft tag, what is a tag, what is color code, why are some colored
About QR Code Press and MCommerce Press
We highlight the latest in the world of Mobile Commerce news so you can keep updated with the coolest technology available! Join us and explore the changes in how the world does business with new technology like Near Field Communications that enable mobile payments, Augmented Reality Apps, QR Code marketing techniques and Social Media marketing tactics. Learn from others how you can take your mobile marketing campaign to the next level by implementing successful mobile strategies. Enjoy and thanks for stopping by!