Advertising has gone to the animals, literally. Actually, in this case it isn't advertising, it's education. The Santa Barbara Zoo is utilizing QR Codes to give patrons the opportunity to interact with the animals. This is not only brilliant on their part, but a move that should set a standard for every other business out there.
QR Codes are small, square, 2-D boxes similar to barcodes. Smartphone's can download an application that allows them to scan the code and be taken to a website, information or video that has been linked to the code. The Santa Barbara Zoo is the first zoo in the U.S. to develop this type of a program.
 As a prototype, they have started with ten, interactive QR Code signs. The first sign is near the entrance, and the other nine are placed at certain animal exhibits. The guest can scan the code with their Smart phone, and be linked to "behind the scenes" video of the animals playing, being fed, or just interacting with the handler.
Some have narratives by the zoo keeper, telling interesting stories or facts, and others may be videos with music. All the videos have been created by the zoo staff, so the patron gets to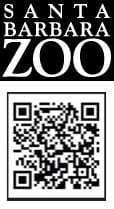 see a lot of things that may not necessarily be seen during a normal visit.
There's more to the zoo than just new interactive videos; they also have zoo camp. Santa Barbara's "Conservation Education Camp" isn't new; it has been going on for over thirty years. The camp is based on the sciences, and each curriculum has the fundamentals required by California state curriculum for schools.
They also offer GPS guided tours, for educational field trips; but if you're not a kid, don't feel left out, the camp and tours aren't just for kids. There are a number of activities for the adults to participate in that are just as fun and educational as the stuff the kids get to do.
The zoo also offers scenic mountain and ocean views, with plenty of places to relax in one of the beautiful garden areas.