The AR feature is part of Google's new augmented reality models.
A new Google search AR app feature has been launched by the Internet giant. The company announced its new augmented reality models back in May at its I/O developer's conference. This new feature allows smartphone users to view a 3D image of certain search results, including some animals.
The AR feature works with several different animals.
To view the animals in augmented reality mode, users will require an ARCore or ARKit-ready Android phone or iPhone. Using a compatible smartphone, they are required to navigate to Google and search for an animal. If the animal searched for (e.g. tiger) is available, it will pop up in a small box with a few statistics and an animated thumbnail. There will also be an option to "meet a life-sized tiger up close."
Users simply tap the "View in 3D" option to be shown a 3D model of the animal in their screen, which they can then switch into AR view by tapping the AR tab on the top of the screen. The animal will then be displayed in the user's real world environment.
On first launch of the feature, users will be asked to "Give access" to camera and device storage if they want to "Get a better look." Anyone familiar with mobile AR will no doubt recognize the prompts to move around and point at the ground to use the feature.
So far, tigers, lions, bears, timberwolves, alpine goats, angler fish, European hedgehogs, emperor penguins and giant pandas are the available Google search AR animals, according to 9to5Google.
It's AR of the tiger!

If you've got an AR-enabled phone, you can now bring select animals right into your space for a safari (or safe snuggle) with Search. pic.twitter.com/kWpudETgeq

— Google (@Google) May 31, 2019
The new Google search AR function offers more than just the chance to view animals using augmented reality.
Beyond viewing animals in AR, Google also said that the feature can be used for more practical reasons such as for mobile shopping, in cases where it would be useful to see what a product's dimensions look like without having to actually physically handle an item.
It could also be used in certain situations as a study tool, for instance, if a user wanted to find out how muscles looked on a person, among other things.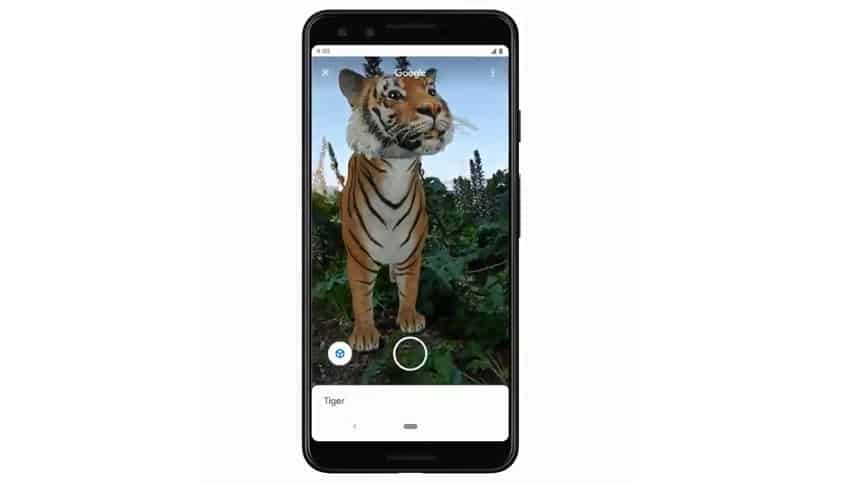 The company will be teaming up with several organizations, including New Balance, NASA, Visible Boyd, Target, Samsung, Wayfair, Volvo and others to add more third-party content to its Google search AR feature in the future.