QR Code Press » Featured News, International, Mobile Commerce, Mobile Marketing, Near Field Communications » France way ahead of the mobile commerce movement
April 26th, 2011 | Add a Comment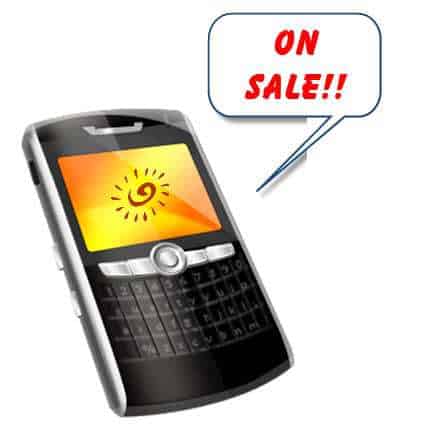 Near Field Communication (NFC) marketing programs are being developed for supermarkets to assist shoppers with preferences, sales, in store product locations and more. The current program is being tested in Nice, a small town outside of France, at a local branch of a supermarket chain called Leclerc.
NFC technology is quickly taking its place in our society as an interactive tool that will change the way we shop and market products. Several large U.S. companies such as Google, IBM, and American Express, are all immersed (and invested) in bringing this platform to life very soon.
However, in France, several companies have been doing beta tests of mobile Smartphone's and the use of NFC enabled applications. Recently, a test in Nice, showed how many users would take advantage of Smartphone's equipped to buy transit passes and pay for merchandise.
The test went so well that the French government funded similar program tests with NFC devices in nine other surrounding towns. The French company Think&Go NFC developed the new retail shopping solution called NFC Commerce.
There is a broad range of applications with this program that assist the supermarkets in personalizing market campaigns to certain groups or individuals, cross marketing, and consumer spending and purchase tracking. The customer can set up their Smartphone NFC program with specific needs or information to scan for.
If they require a special diet because of health reasons, or have food allergies, they can enter this information into the program. When they are near a product that contains an ingredient they're allergic to, their NFC tag will flag them with information regarding possible allergies to ingredients contained in that product.
This program can assist them in shopping for items they particularly like that may be on sale, or help them locate an item somewhere in the store. It can send product ingredient information or many other specific tasks the shopper has customized it for.
A Think&Go NFC representative stated that to continue improving their products and to continually make them better they made a point to listen to feedback from retailers and their customers.
Filed under: Featured News, International, Mobile Commerce, Mobile Marketing, Near Field Communications · Tags: France uses NFC for shopping, Leclerc, m commerce, m commerce services, m commerce technology, mobile applications, mobile business applications, mobile commerce, mobile commerce adoption, mobile commerce application, mobile commerce applications, mobile commerce companies, mobile commerce daily, mobile commerce industry, mobile commerce market, mobile commerce market size, mobile commerce marketing, mobile commerce platform, mobile commerce services, mobile commerce solutions, mobile commerce technologies, mobile commerce technology, mobile commerce trends, mobile communications, mobile e commerce, mobile internet, mobile media, mobile nfc, mobile technology, mobile web, near field communication, near field communication chip, near field communication nfc, near field communication technology, Near Field Communications, near field communications marketing, near field communications nfc, near field communications world, near field magnetic communication, nearfield communication, nearfield communications, nfc applications, nfc card, nfc chip, nfc communication, nfc devices, nfc enabled mobile phones, nfc enabled phones, nfc handsets, nfc marketing, nfc mobile, nfc mobile payments, nfc mobile phone, nfc near field communication, nfc payment, nfc payment system, nfc payments, nfc phone, nfc phones, nfc reader, nfc readers, nfc rfid, nfc security, nfc smart poster, nfc sticker, nfc stickers, nfc tag, NFC tags, nfc technology, nfc wireless, Nice France supermarket, RFID, rfid nfc, samsung nfc, what is near field communication, what is nfc technology
About QR Code Press and MCommerce Press
We highlight the latest in the world of Mobile Commerce news so you can keep updated with the coolest technology available! Join us and explore the changes in how the world does business with new technology like Near Field Communications that enable mobile payments, Augmented Reality Apps, QR Code marketing techniques and Social Media marketing tactics. Learn from others how you can take your mobile marketing campaign to the next level by implementing successful mobile strategies. Enjoy and thanks for stopping by!