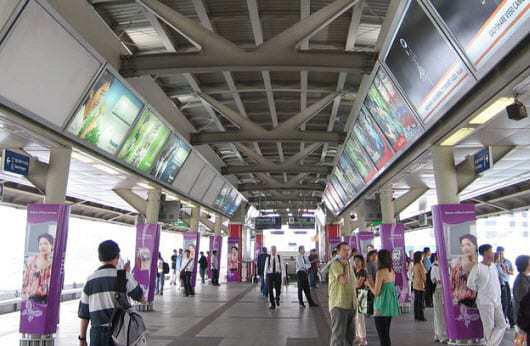 Ensogo, the largest daily deal site in Thailand (acquired by Living Social earlier this year for an amount that has not yet been disclosed) has announced the launch of their new billboard campaign in Bangkok which uses QR codes.
The ads can be found at Thonglor BTS station, which is a location favored by the jet-set in the city. The boards are nothing more than a number of QR codes that promote luxury product and service deal promotions, such as those for golf clubs, vacations, etc.
This is quite the unique advertising statement, as the billboards in these locations will traditionally consist of airbrushed images of models enjoying the product or service being promoted. It is extremely rare to find ads that display nothing more than QR codes.
The impression left by these ads by Ensogo is that this is an element of a pilot program as opposed to a complete ad campaign. For this reason, it is clear that the ads still have both potential and drawbacks.
So far, the campaign has received mixed reviews in terms of the usability and practicality of the technology itself, and the way that the offers are being presented to the viewers.
One of the primary criticisms is that the ads do not include any identification of what QR codes actually are and how they can be used by smartphone owners. Therefore, for anyone who has never used a QR code before – which still includes the majority of mobile device users – there were no instructions teaching them how to use those on the billboard.