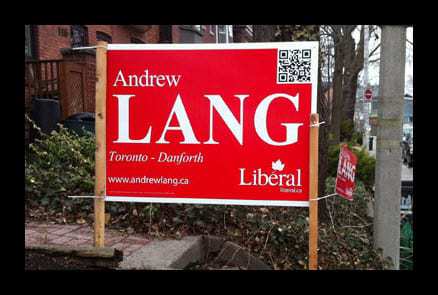 Politics is often characterized as a battlefield. The political arena, as it were, can certainly seem as such, given the amount of verbal warfare coming from both sides. Fitting of the characterization, politicians are often on the lookout for new ways to edge out their opponents, clinging to every advantage as though it meant sure victory. As society – the next generation of young voters in particular – embracing mobile technology, can politicians engage tech-savvy voters by using QR codes?
Andrew Lang, the Liberal candidate for Toronto-Danforth, Canada, believes that QR codes will give him the cutting edge he needs in the upcoming elections. He has taken to adding the codes to his political signs. Currently, the codes only resolve to a mobile version of Lang's website, but he has plans on expanding their use in the near future, though he keeps such ideas close to his chest.
He was encouraged to use the codes after some of his staff spotted them on real estate signs. Intrigued, they inquired as to the meaning of the blocky patterns. Convinced of their potential, the codes became a part of the political battle soon thereafter. Already the campaign has received a large number of scans, a sign that the codes are enticing the tech-savvy crowd.
QR codes have had a prolific relationship with the advertising industry but have been seeing more use from government and personal organizations. As the codes continue to prove their value extends beyond the venue of magazine and newspapers ads, they stand to make a significant impact on the way people interact with each other through their mobile devices.
Related posts