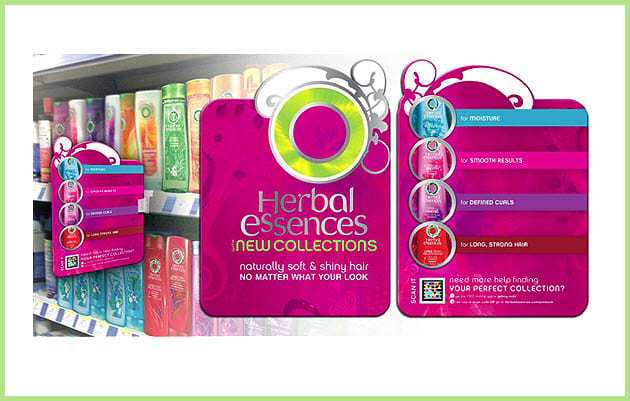 Herbal Essences has introduced a new retail campaign making use of QR codes and Microsoft Tags on in-store signage. The codes will enable shoppers to view detailed information about hair care products. Customers will also be able to find information on what products that best suit their hair type. The campaign will appear in more than 53,000 stores around the country, according to the company.
The campaign will make use of Microsoft Tags along with QR codes. The Tags are being considered the next generation of barcode technologies. 2d barcodes are becoming the primary method of providing interactive experiences for smart phone users. More companies are making use of the codes as a means of offering exclusive content to their consumers, whether that is in the form of video, text or website.
Herbal Essences is using the codes to provide an array of information regarding their products. Through their mobile site, users will be able to find product reviews and see YouTube videos that will offer tips of hair styling. Consumers will be able to find more information on products and how to use them through the site as will.
There has been some criticism regarding how Herbal Essences has constructed their mobile site. Generally, such sites are optimized to fit mobile devices. Their composition tends to be more streamlined and slimmed-down than more traditional websites. Herbal Essences, however, have not taken the time to optimize their mobile site, opting instead to transcribe their already existing data to a mobile template. This makes for a cramped feeling on smaller devices and can cause overlapping features.
Herbal Essences plans to roll out the campaign in more than 53,000 stores around the nation within the coming months.