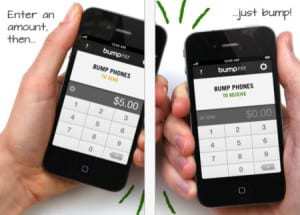 Bump Pay, the second app by Bump Labs, has brought the company into the mobile payments market, allowing its users to tap their phones together in order to exchange money.
The Bump Pay app has been developed based on the core technology of the company, which gives two smartphones the ability to transfer data to one another simply by tapping them together. This differs from near field communication (NFC) – which is the foundation of the Google Wallet – in that it requires the two devices to make physical contact with one another.
The first app released by the company, simply called Bump, allows information and photos to be transferred from one smartphone to another through contact.
_____________________________________________________
Ad -

#1 Ways to Double Your Productivity For Life
By Jason Fladlien, referred to by many as "One of the top 5 living marketers on the planet". How did he get there? By working smart. Get twice as much out of your day with Jason's easy system -
Learn More Here
_____________________________________________________
In order to use Bump Pay to send money to another person, a smartphone user simply enters the amount of money to be transferred into the app, and then simply taps the device against the recipient's phone. Both devices must have the app installed for it to function, and both users must have a PayPal account to send and receive the funds.
The software at Bump is capable of determining which two smartphones have made contact with one another. The app is then capable of making a funds transfer from the PayPal account of the sender to that of the recipient.
According to Forrester Research analyst, Denee Carrington, what is interesting about the app is currently simply the novelty factor, but it "may spur trial, but being within arm's reach of the person you're paying back is not always convenient and will limit its usefulness."