QR Code Press » Featured News, Mobile Commerce, Mobile Marketing, Near Field Communications, United States » Atria Books launches world's first NFC-enabled smart book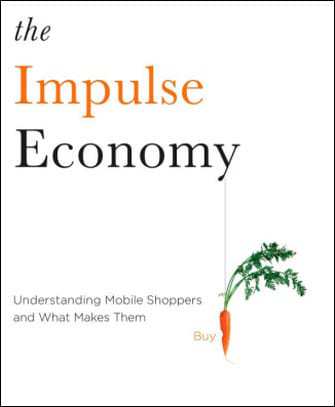 Atria Books, the publisher behind the acclaimed The Secret series, has published the world's first "smart book." Titled THE IMPULSE ECONOMY: Understanding Mobile Shoppers and What Makes Them Buy, the first 1,000 copies of the book will feature an RFID chip that allows readers with NFC-enabled phones to access additional content. NFC technology has been getting a lot of attention for its uses in mobile commerce, but more publishers have begun looking toward mobile technology to help keep consumers interested in print. Atria Books is the first to make use of NFC technology in the publishing industry beyond marketing.
Atria's aim is to make physical media more interactive. The book's NFC tag will be linked to a mobile website that holds a wealth of information concerning the work and its author. The book is written to appeal to marketers growing increasingly enthralled by mobile technology and the additional content linked via NFC will help them understand how the technology works. Atria believes that NFC technology can help the print industry engage consumers in a way similar to digital media.
Pending the success of the initiative, the publisher may choose to produce more NFC-enabled books. With telecommunications companies building more mobile devices that make use of NFC technology, the possibility of future smart books seems quite bright. Atria Books is among the first publishing houses to take an aggressive approach on adapting to a new generation of consumers more interested in mobile technology than ever before.

Filed under: Featured News, Mobile Commerce, Mobile Marketing, Near Field Communications, United States · Tags: additional content linked from book, book on mobile commerce, book on mobile marketing, book's NFC tag, first smartbook, mobile commerce, mobile commerce book, mobile marketing book, mobile technology, Near Field Communications, nfc book, nfc enabled phones, NFC enabled smart book, nfc tag in book, nfc technology, RFID chip, THE IMPULSE ECONOMY, Understanding Mobile Shoppers