QR code art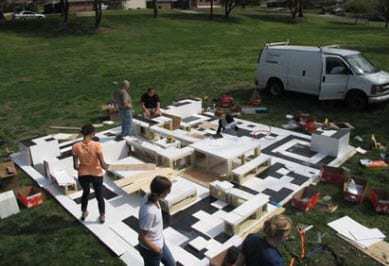 Washington University and University City's 26th annual Student Sculpture Project began on April 1, with an event at Centennial Commons, after which point the various art pieces will remain available for public viewing until September.
The pieces on display were selected from among those submitted by the Washington University Sam Fox School of Design and Visual Arts sculpture students. Their submissions included both proposals and models, as well as the budgets they would require. They were submitted to the University City Municipal Arts and Letters Commission.
Among those selected included the following:
• QR City – This piece, created by Melissa Gollance, drew a tremendous amount of attention because it was not only a fascinating piece, but it also included the additional inclusion of a QR code, which expanded the experience into the mobile sphere. The QR City piece was located in Rabe Park's southern end, and featured a tremendous outdoor QR code.
This barcode square allowed individuals with smartphones and tablet computers – that have been equipped with a scanner app, most of which are available for free – allowed Gollance to add an interesting and amusing interactive element to her work. She stated that it would allow her piece to "encourage face-to-face social interaction."
She is counting on the fact that many people are now very familiar with the codes and how to use them, as they are becoming an increasingly common in everyday life. Gollance believes that her use of the QR code will symbolize more than our interaction with technology, but that it also includes an interaction with each other.
When the giant QR City code was scanned by mobile device users, they were redirected to a website with additional content by the artist.
• Domestic and Wild – Aly Strubberg was the artist behind this project, which was designed to assist in showing "the viewer the dichotomy of wild nature and domestic nature." She created the piece out of a number of wooden doors that were carefully combined with the existing plant life of the Heman Park located between the creek and the playground.
• Shadowplay – designed by Matt Callahan, this piece was a video sculpture that can be viewed at night and which addresses the impact of the University and of the city of St. Louis on "shaping University City."