Hints of version 6.0 of the most popular mobile operating system have now been released.
The next version of Google's mobile operating system, Android Marshmallow, version 6.0, has now had its name revealed for the first time, and a statue of the OS name has now been added to the San Francisco campus of the tech giant.
Like previous versions, it has been named after a sugary treat, and it is making itself visible on the property.
The new upcoming Android Marshmallow will follow in the footsteps of KitKat (version 4.4) and the more recently released Lollipop (version 5.0). While the operating system, itself has not yet been released, and the vast majority of the details surrounding it are not yet being made available, this is the first step toward the next version of this platform for mobile technology devices ranging from smartphones to tablets and others.
The release of the name of Android Marshmallow comes alongside the launch of the version 6.0 SDK.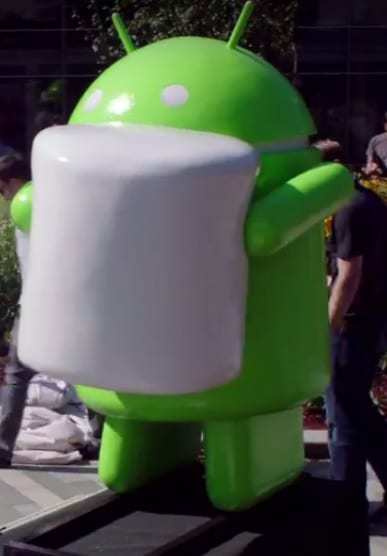 The announcement of the name of the operating system for Android 6.0 has come along at the same time as its SDK release. This technology news also included the final Developer Preview update for the operating system. This makes it possible for app developers to be able to make the updates to their applications for the future version of the operating system by way of API 23.
Because of this, the Google Play Store has begin accepting the submissions of mobile apps that are considered to be ready for Marshmallow, even ahead of the public release of the operating system, which is expected to occur in the fall of this year. The specific rollout date of the OS has not yet been identified.
Until the name of the operating system was just recently released, it had been known only as Android M. That name, and the very existence of the next version of the operating system, was first released to the world back on May 28, at the Google I/O.
According to Google, Android Marshmallow will be the most powerful version of the mobile operating system, to date. It explained that hundreds of improvements are on their way, and they will make a significant positive difference to the user experience.