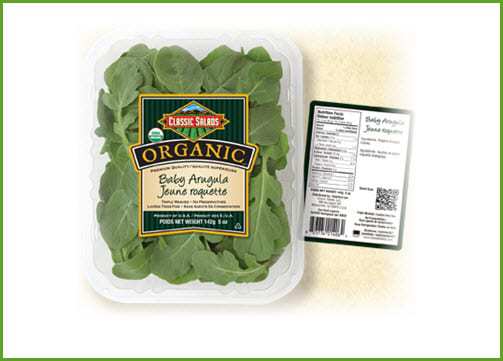 The organic food industry has is becoming increasingly integrated with the digital world. Many growers are establishing their presence on social networking sites, hoping to appeal to a new generation that is increasingly health and environmentally conscious. As mobile technology begins to play a more integral role in connect with today's consumers, companies are opting to bridge the gap between their online presence and physical product.
Classic Salads LLC, a leading supplier of baby leaf salads, has announced that they will be using QR codes as part of their retail packaging. The codes will be featured on the labels of their products distributed throughout Canada. The company will use the codes to help raise awareness about the benefits of organic produce. Consumers are often faced with a multitude of choices when purchasing organic salads, and Classic Salads wants to ensure they have all the information they need before making a choice on what they want.
Founded in 2000, Classic Salads has become one of the fastest growing companies in the organic food industry. Originally, they focused on providing fresh, organic produce to the foodservice industry, only entering the retail market last October. The company has been experiencing a robust period of growth akin to the rise of fame of QR codes.
While still new to the retail market, Classic Salads hopes to solidify their position with consumers by using mobile technology to engage their audience.