QR Code Press » Augmented Reality, Featured News, Mobile Commerce, Mobile Marketing, Social Media Marketing, United States » Amazon launches Flow AR app to compete with Google Shopper
November 8th, 2011 | Add a Comment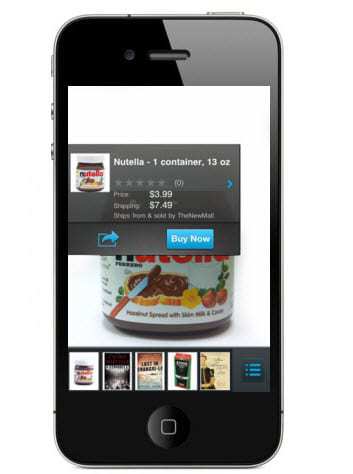 Amazon's A9.com web app company has announced the launch of a new iPhone app that is available to users for free and that will use augmented reality technology to improve the search process for products at Amazon, and to learn more about those products.
Amazon is now using the Flow to allow customers to use the camera feature on their iPhones to scan UPC codes on DVDs, books, video games, and millions of other items in order to obtain more information about them.
When the Amazon-powered Flow recognizes a product through its UPC bar code, the app displays an Amazon.com graphical overlay that provides information about that item. This information may include videos, ratings and reviews from Amazon customers, or other useful data. The Flow user also has the option to share that product information through Twitter, Facebook, or email.
Bill Stasior, A9.com president, said that this new technology is the very first step being made by the company toward the integration of augmented reality with the very latest in product search capabilities. He explained that by bringing the display from a live camera together with visual recognition technology and graphic overlays, it "creates a seamless experience for a customer looking to discover information about objects in their physical surroundings."
The Flow experience is a fusion of the typical desktop environment, combined with mobile technology and real-world elements. In Google terms, it would be somewhat of a blending of the Google Shopper e-commerce app with the Google Goggles visual search app.
Filed under: Augmented Reality, Featured News, Mobile Commerce, Mobile Marketing, Social Media Marketing, United States · Tags: A9.com, amazon app, amazon ar app, amazon augmented reality mobile app, amazon Flow AR app, amazon mobile commerce, amazon mobile shopper, amazon news, amazon.com, augmented reality app, free amazon shopping app, Google Goggles visual search app, google shopper, Google Shopper e-commerce app, iphone amazon app, latest in mobile shopping apps, mcommerce news, mobile commerce, mobile shopping trends, mobile social sharing, news on mobile commerce, scan UPC codes, social sharing, web app company
About QR Code Press and MCommerce Press
We highlight the latest in the world of Mobile Commerce news so you can keep updated with the coolest technology available! Join us and explore the changes in how the world does business with new technology like Near Field Communications that enable mobile payments, Augmented Reality Apps, QR Code marketing techniques and Social Media marketing tactics. Learn from others how you can take your mobile marketing campaign to the next level by implementing successful mobile strategies. Enjoy and thanks for stopping by!